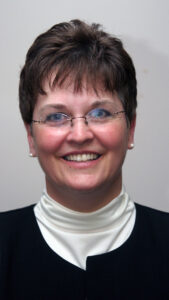 ---
Pamela Quinn earned her Associate in Science in Dental Hygiene from Onondaga Community College.  She continued her education at the State University of New York at Cortland earning a Bachelor of Science in Health Education and a Master's in Education.
Pamela began her teaching career as an instructor in Broome Community College's dental hygiene program and served in this capacity from 1988-2001.  In fall of 2001 she became the program director for Onondaga Community College's dental hygiene program. In 2004, she was appointed the Associate Vice President of Academic Affairs at Onondaga Community College where she was instrumental in the transfer of OCC's dental hygiene program to SUNY Canton.  She returned to teaching and became the program director for the SUNY Canton program from 2005- 2019.
At the peak of COVID, Pam was employed by the Onondaga County Health Department and provided vaccinations at the Oncenter.  During that time, she also served as a consultant for several offices in Onondaga and Oneida Counties developing Respiratory Protection Programs for the offices, providing OSHA mandated training, and conducting fit testing for N95 respirators.  In addition, she has served as the corresponding secretary for the Central Region Dental Hygiene Association and was Vice President of Professor Development for the New York State Dental Hygiene Association (NYDHA).  She has taught several webinars for NYDHA and has shared her expertise as a dental hygiene textbook reviewer for a number of publishers.
In 2003, Pamela was the recipient of the NISOD Award for Excellence in Teaching at a Community College.  Pamela was named Who's Who Among Community College professors in 2003 and 2004.  In 2005 she was nominated for the Empire Who's Who of Women in Education.  Pam served as a consultant for the NYS Department of Health's Surveillance Project during the summer of 2004 when she was not teaching.  In 2015, Pamela was the awarded the SUNY Chancellor's Award for Excellence in Faculty Service.
At the current time, she is serving as a consultant for Mohawk Valley Community College which is currently seeking the Commission on Dental Accreditation's approval to offer a dental hygiene program on its Rome Campus.
(Mrs. Quinn has no financial relationships to disclose relevant to this presentation.)
Course:  NYS Mandated Infection Control and OSHA Training