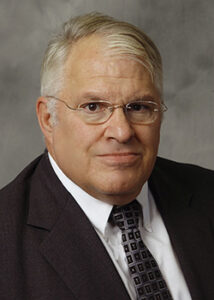 ---
Dr. Thines received his dental training at the University at Buffalo School of Dental Medicine. He completed residency training at the Buffalo General Hospital. He also earned an M.S. degree in Epidemiology from the University at Buffalo School of Medicine and Biomedical Sciences.
Dr. Thines holds a Fellowship from American Association of Hospital Dentists and he is recognized a Diplomate by the American Board of Special Care Dentistry.
Currently Dr. Thines is a Professor in the Department of Surgery, Division of Dentistry at Upstate Medical University and he serves as Chief of the Dental Service at the University Hospital. His previous faculty appointment was at Buffalo school of Dental Medicine in the Department of Oral Diagnostic Sciences. He has served as the dental school's Infection Control Officer and Committee Chairperson. Dr. Thines has been a consultant to the American Dental Association, NYS Department of Health, NYS Education Department and a technical advisor to the New York State Dental Association. He has lectured widely on oral medicine, patient management, communicable diseases as well as infection control.
Dr. Thines' professional contributions include recent membership on the New York State Dental Foundation Board of Directors and NYSDA Council on Dental Education and Licensure.
(Dr. Thines has no financial relationships to disclose relevant to this presentation.)
Course:  NYS Mandated Infection Control and OSHA Training